Andreessen Horowitz
公司性质:有限责任公司
法人代表:Marc Andreessen
成立时间:2009年7月6日
公司规模:2000+人
所属行业:VR投资机构
企业官网:https://a16z.com/
企业邮箱:businessplans@a16z.com
总部地址:Andreessen Horowitz 2865 Sand Hill Road, Suite 101 Menlo Park, CA 94025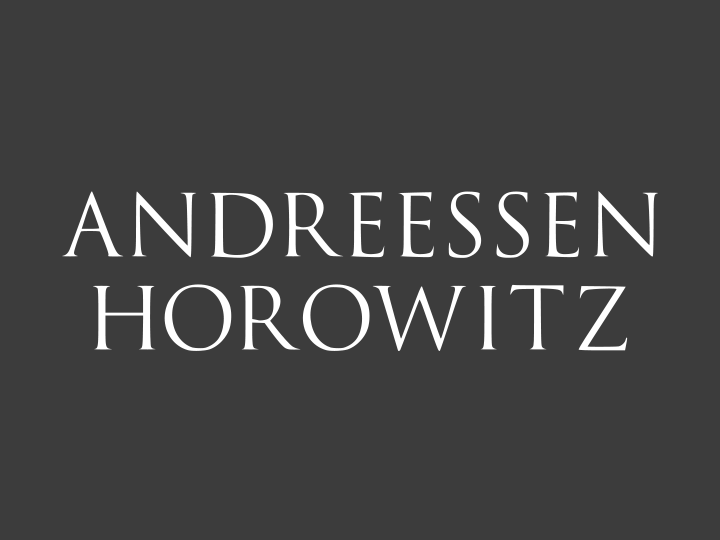 1. 公司信息
1.1 公司简介
Andreessen Horowitz 公司由Marc Andreessen 和Ben Horowitz 共同创立的,这家位于沙丘路(Sand Hill Road,位于加州门罗公园,因为密布着众多风险投资公司而知名)的风险投资公司在成立不过短短三年时间里,就跻身成为硅谷最顶尖的风投公司之一,与Accel, Benchmark, Greylock, Kleiner 和Sequoia 等齐名。
1.2 发展历程
2006年到2010年期间,安德森和霍洛维茨就是IT技术公司的积极投资者。他们曾经投资了80万美元给今日家喻户晓的微博Twitter。在此期间,两人成了众所周知的超级天使投资人。
2009年7月6日,安德森和霍洛维茨以300亿美元的初始资本推出了他们的风险投资基金。
2010年11月,在创业资本主义萎缩时期,该公司推出了另一个$650万美元的第二次创业基金。
2011年5月,安德森霍洛维茨被Investor Rank综合了公司的网络和其他风险投资公司联合的水平得出的投资者排名评为冠军。
---
2. 产品服务
业务领域
主要侧重于风险投资虚拟现实和增强现实初创行业。
安德森·霍洛维茨基金管理对很多知名的科技公司给予过支持,这其中包括Facebook、Skype、Groupon和Instagram等。
2013年底,Oculus公司获得了Andreessen Horowitz风投公司的7500万美元投资,随后VR概念在科技和游戏业内被普遍看好,Facebook更是在2014年不惜20亿美元直接收购了Oculus公司。
Andreessen Horowitz怎么看待VR?
Andreessen Horowitz 2015年底总结中提出了投资人对于VR技术领域的以下见解:
VR 早期尝试都失败,原因是技术没成熟,现在变量已发生,因为摩尔定律,由智能手机引发的处理器、屏幕等快速发展,VR 最终将准备好走向主流。
这里的关键是:VR 是否能创造出一种"存在感"。
以前我们看电视或电影,大脑对内容的默认设置是不可信,但 VR 中,这个默认状态是真实可信,VR 风险不在它好不好玩,而在人处于 VR 时整个状态太逼真强烈,一方面,我们需要暂停怀疑精神沉浸其中,另一面,又要提醒自己正经历的不是真的。
我们即将进入 VR 探索期,这个探索就像电影刚出现时头几十年,导演不知整个流程:怎么写剧本、怎么编辑等,而经历几十年实验期后,事情开始变得自然。
VR 会出现伟大的游戏作品,接下来数年,游戏也可能成为 VR 主要赢家。但长远看,我们不认为游戏是 VR 必不可少的要素。实际上,就像过去电视等同于新闻和娱乐,但今天,电视屏幕被我们看作是内容输入输出的设备,VR 最终也会成为输入输出的装置,甚至一些人把 VR 视为"最后介质",因为任何介质都可以在 VR 中被发明。
未来回头看,电影和电视屏幕会被我们看作是在人类发明了电和发明了 VR 的一个中间步骤,未来孩子可能难以置信他们祖先曾长时间盯着一个发光的四方屏幕看东西。
---
3. 公司背景
Ben Horowitz是著名风险投资机构Andreessen Horowitz的联合创始人。之前,他曾联合创办过Opsware并担任公司的CEO,公司后来被惠普收购。此外,他现在还是很多公司的董事会成员,包括Capriza、Foursquare、Jawbone、Lytro和Okta等。
经过三轮融资,该公司管理着高达27亿美元的资金,在最为瞩目的几笔交易中都有他们的身影。A16Z 的投资组合包括Skype, Facebook, Instagram, Twitter, Foursquare, Pinterest, Airbnb, Fab, Groupon 和Zynga 等众所周知的名字。 Andreessen Horowitz豪气霸道的投资推高了整个硅谷VC界对创业公司的估值,在一片羡慕嫉妒恨当中颠覆着硅谷VC界。
Andreessen Horowitz 效应
当Andreessen Horowitz决定要投资一家创业公司时,他们就对价格不再敏感(出手豪爽)。"他们对许多创业公司的出价都是过高的",一个VC这样说,"这样他们就逼得整个投资界都跟着出高价了。"换句话说,即使他们最终没有投资,也会把估值推高。
---
4. VR岗位招聘
Enterprise Infrastructure Partner
RESPONSIBILITIES
Develop a sharp investment point of view on categories and companies. Why would we invest in a company? What creates the opportunity for an outsize return in a space? What market technology trends are creating disruptions and therefore investing opportunities?
Lead comprehensive diligence. The Enterprise Partner will lead diligence on investment opportunities. They will provide a comprehensive view of the company's people, products, technologies, go-to-market plan, competitive position, and anything else relevant to making an investment decision.
Understand what the big companies are doing. The Enterprise Partner will maintain a set of "pick up the phone" relationships with the key people (across product, business development, marketing and sales) in the most important big companies. The Enterprise Partner will meet regularly with these people to understand what the big companies are building and buying, what they are leaving as white space for startups, and how they plan & execute M&A.
Source investment opportunities. The Enterprise Partner will find promising investment opportunities in their domain by developing relationships with entrepreneurs, attending industry events, and cultivating university and corporate networks.
Attend industry conferences, events, and webinars. The Enterprise Partner will attend relevant industry events to extract and share deal flow and insight with the rest of the firm.
Build a subject matter expert network. The Enterprise Partner will continuously grow & nurture the firm's network of subject matter experts.
Present points of view about industry trends and best practices. The Enterprise Partner will prepare impactful presentations for a variety of audiences including the firm's Limited Partners, business development and product managers at companies throughout the tech ecosystems, and press/analysts.
IDEAL CANDIDATE BACKGROUND
Bachelor's degree in Computer Science, Engineering, Math, Physics or other technical field; alternatively, proven analytical capabilities and an intuitive sense evaluating products would be useful skills.
MS or Ph.D. preferred. This role requires deep technical expertise and requires you to understand the difference between a container and a hypervisor, TensorFlow and Theano and Keras, Spark and Hadoop, how data stores deliver ACID or CAP, and so on.
3–5 years of experience working in a variety of high tech companies as a software engineer, software architect, data scientist, product manager, or solutions architect; alternatively, equivalent experience working at an industry analyst firm (e.g., Gartner, The451, Forrester) or investment bank focused on the technology industry
Genuine intellectual curiosity, the ability to learn new facts and concepts quickly and comprehensively, then explain those facts & concepts to other people succinctly
Ability to synthesize complex information, form a sharp point of view, and communicate it in a relevant way to different audiences
Relevant operating experience in enterprise infrastructure companies (e.g., VMware, Docker, Nicira, Amazon Web Services, etc.)
Proven communications skills, both verbal and written
Excellent attention to detail and follow through
Ability to juggle multiple items and work on tight deadlines
Desire and ability to learn new domains and technologies quickly
Energetic "can-do" attitude
People Practices Partner
RESPONSIBILITIES:
Partner with internal HR within the portfolio companies to identify and address critical organizational and people issues then provide recommendations/counsel through HR best practices/processes to implement.
Develop management training modules for our portfolio companies and ability to deliver a customized solution to our portfolio leaders and managers.
Develop HR best practices content in supporting organizational growth ranging from culture, offsite planning, facilitation best practices, management 101, to organization design.
Ongoing coaching and counsel to portfolio companies related to retention, compensation, benefits, compliance, international expansion to employee relations.
Advise companies regarding people related strategy and decisions (including organizational design, planning, succession planning, talent management, and culture) at various stages of growth.
Research new and disruptive HR tools ranging from employee engagement, background checks, and onboarding to performance management. Recommend tools that will be solutions at various stages to support a company's scale/growth.
Maintain a current understanding of compliance related to regulations, laws, industry trends, practices, and developments that may affect the companies and advise accordingly.
DESIRED EXPERIENCE:
At least 7 years of HR experience within a high-growth company or business unit, preferably in the technology industry.
Strong working knowledge of all HR functional areas including recruiting, onboarding, training and development, employee relations, performance management, compensation, and benefits.
Experience building out centralized programs and delivering training across the organizations.
Knowledge of HR compliance and regulations and industry best practices.
Detail and action-oriented individual with a passion for implementation Comfortable working as an individual contributor in a fast-paced, dynamic, high-energy environment.
Previous experience working with executives.
Strong verbal and written communication skills.
Bachelor's degree required.
---
5.联系方式
商业计划
businessplans@a16z.com
新闻咨询
a16z@theoutcastagency.com
招聘
talent@a16z.com
collegetalent@a16z.com
公司地址
Andreessen Horowitz
2865 Sand Hill Road, Suite 101
Menlo Park, CA 94025-